CITATION
Rasheed, Muhammad. "Mortsion: Rickpossible." Cartoon.
The Official Website of Cartoonist M. Rasheed
13 Jul 2021. Pen & ink w/Adobe Photoshop color.
ARTIST'S DESCRIPTION
This #MRasheedCartoons image was created as the cover to an argument I engaged in with my buddies over on a certain message board. Here's the set up to the melodrama:
"Hey darling - miss me? Just popping by to let you know that our forum sort of got hacked, which sadly resulted in the 52 pages of hilarity you gave us being lost forever, as well as anything else posted after 2019. On the plus side, some joker popped up batting for you on the old thread, and you will not believe the racist shit he's saying "in defence" of black people. I don't know if you still lurk on the forum, but if you're looking for a little inspiration for another comic, consider checking out the old thread again (though I think Long Tom will still ban you if you try to make a new account) It's amazing what this guy is saying "in defence" of black people - you'll love him." ~webkilla
It turns out it was me. I was the guy. When I saw that the thread in question had reset back to where I first found it last year, I decided to help them out by building the flame war back up. :P
I created a new account...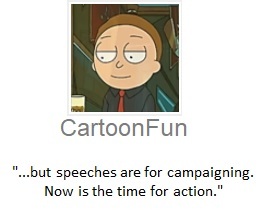 ...with a liberal, white male, closeted gay persona, who worked in a university as a career academic, and then engaged the guys as an M. Rasheed apologist (they loved it). For those inclined to read it, I took the liberty of capturing the entire argument and posting it below in case the original gets "hacked" again.
****************************
WebcomicPassersby
- First off, I would assume people here know what Quora is - an extensive question-and-answer website that's in the top 100 in the world, rising above the competition through rewarding long answers (and automatically collapsing Yahoo Answers-style one-sentence bullshit) and letting users follow each other so that the top writers soon accumulate 10,000s followers. There's a bunch of other stuff there, but that's the key.
Anyway, while it has an outsized Indian userbase, it is still a website that was founded in the Silicon Valley, and so the majority of users are Americans discussing American things. That obviously includes politics to a great extent, and is obviously skewed pretty heavily Democratic (Trump supporters don't tend to be good writers.) Eventually, Quora decided to introduce an equivalent to subreddits (I guess?) with Spaces, and Republican and Democratic ones soon became the biggest ones. The Democratic one, War Donkey, now features its own daily political one-panel webcomic. The most convenient way to view it is from the author's account
here: https://www.quora.com/profile/Muhammad-Rasheed-4/spaces
I suppose the devil's advocates amongst you will note that the guy can certainly draw pretty well by webcomics' standards, and the daily update schedule is good too. However, it's as subtle as a sledgehammer to the face with its message, and is often reliant on the enormous text bubbles as well. Essentially, I believe that if Sinfest is on BWW, then this should definitely be here too. The fact that the "Space" it's posted in also has ~10k followers also makes it a little more urgent then most bad webcomics that generally seem to have considerably smaller readerships.
ToothBrush
- i'm getting a 404 error from the link. took out the "/spaces" from the url and then it worked.
TangorineTamborine
- I like the guy's art style. The only thing I'd say would probably help him is killing off some word salad since he explains everything anyway and/or extending from the single panel in some cases.
He could have nixed the bubble to something shorter and the point would have been clear.
But besides that, yeah, the context lol.
Like this comic where he portrays futuristic white supremacists as having "Founding Father" wigs. Subtle.
What on earth are you talking about? That doesn't make any sense. (right, you link that thing later in your post, I commented on it there)
_________________________